Visualize your Competitive Landscape
Competitor Matrix Templates & Examples
When a sports team steps out onto the field, what do they see? The opposing team, the goal, the scoreboard, the audience, the weather…
Understanding your competition goes beyond just looking at another business; you need to know what the rest of the playing field looks like.
A competitive matrix is a simple visualization of the key players in a market. Once you know who is participating in your industry, the competitor matrix can help you see your own positioning as well as that of your opponents.

Famous examples of a competitive matrix include the Gartner Magic Quadrant:
Or the Forrester Wave, which takes a radially different approach to showing how competitors rank. The X and Y axes are unique in that they allow for businesses to also be graded on their maturity.
Defining your competitive market and knowing where you stand relative to others is critical. Investing in the people, process and technology of strategic CI enables you with a confident and defensible edge.

David Mahdi, Chief Strategy Officer – Transmit Security
Examples of Competitor Matrix Templates
Generating your own competitive matrix can help you understand how your company fits into the landscape and beyond.
Here are some of the commonly used competitor matrix examples that we've seen.
Competitor Landscape Template: 2 Feature Chart
The 2-feature axis is a simple way of visualizing competing companies or products. It's not quite like the Gartner Magic Quadrant but they basic premise is the same. Companies are ranked on an X and Y axis.
Competitor Analysis Model: SWOT
The SWOT analysis is a classic framework that evaluates a company's strengths, weaknesses, opportunities, and threats.
SWOT is used to better understand a company's competitive position in the market and define the best strategy moving forward. It combines an internal and external view of the company to provide a realistic, multi-dimensional view of the organization. Companies use competitive analysis frameworks such as SWOT to guide them through strategic planning sessions, QBRs, and to help define their go-to-market.
Battlecard Template: Us vs Them
This is probably the most common template used today. It's a simple yet effective way to compare your product with that of your competitors is by visually comparing your products and services. The point of this template is to find overlaps, strengths, and weaknesses across multiple product features.
Battlecard Template: Pricing & Feature Parity
This approach takes the Us vs Them model and applies it to a competitive landscape. These tend to get a little noisy but are still a good way of showing how companies stack up across multiple categories.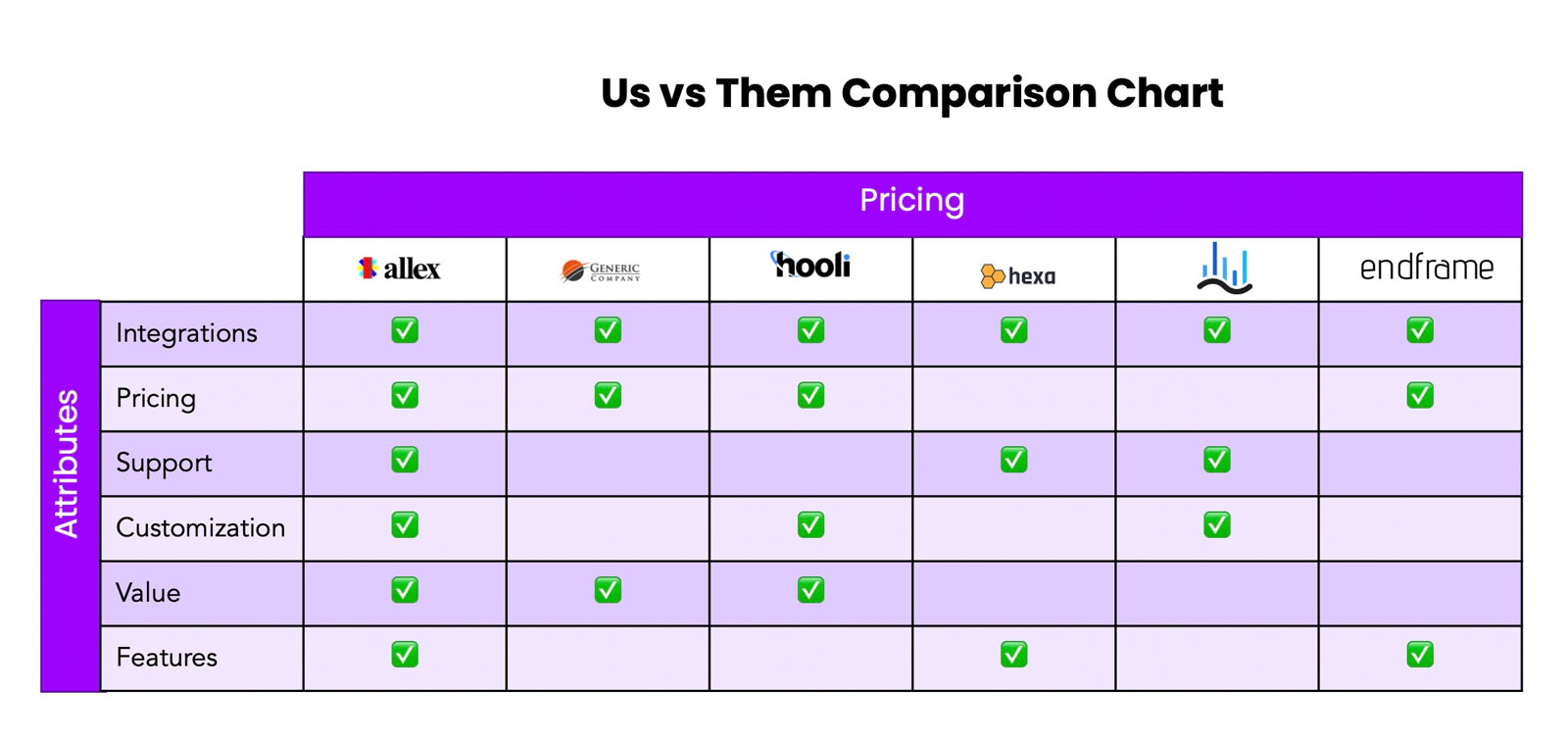 Is a competitor matrix intended for Internal or external use?
A competitor matrix is generally used for internal strategy and landscape analysis. It's not uncommon for these charts to be shared with customers, for example, as part of an RFP or vendor assessment process. The important thing is if you're planning to share these publicly just make sure they are accurate. What might the competitor say about it if they saw the same visual? Always be ready to defend your methodology for the matrix.
How is a competitor landscape analysis different from a battlecard?
A battlecard is used for direct competition within customer accounts and for specific use cases. Battlecards help answer the question of "How do we compete in the arena." In contrast, a competitor landscape is more about "how do we fit into this arena." It is used to help teammates, partners, and prospects understand where your product belongs in their own story.