The Super Cool Guide to Competitive Enablement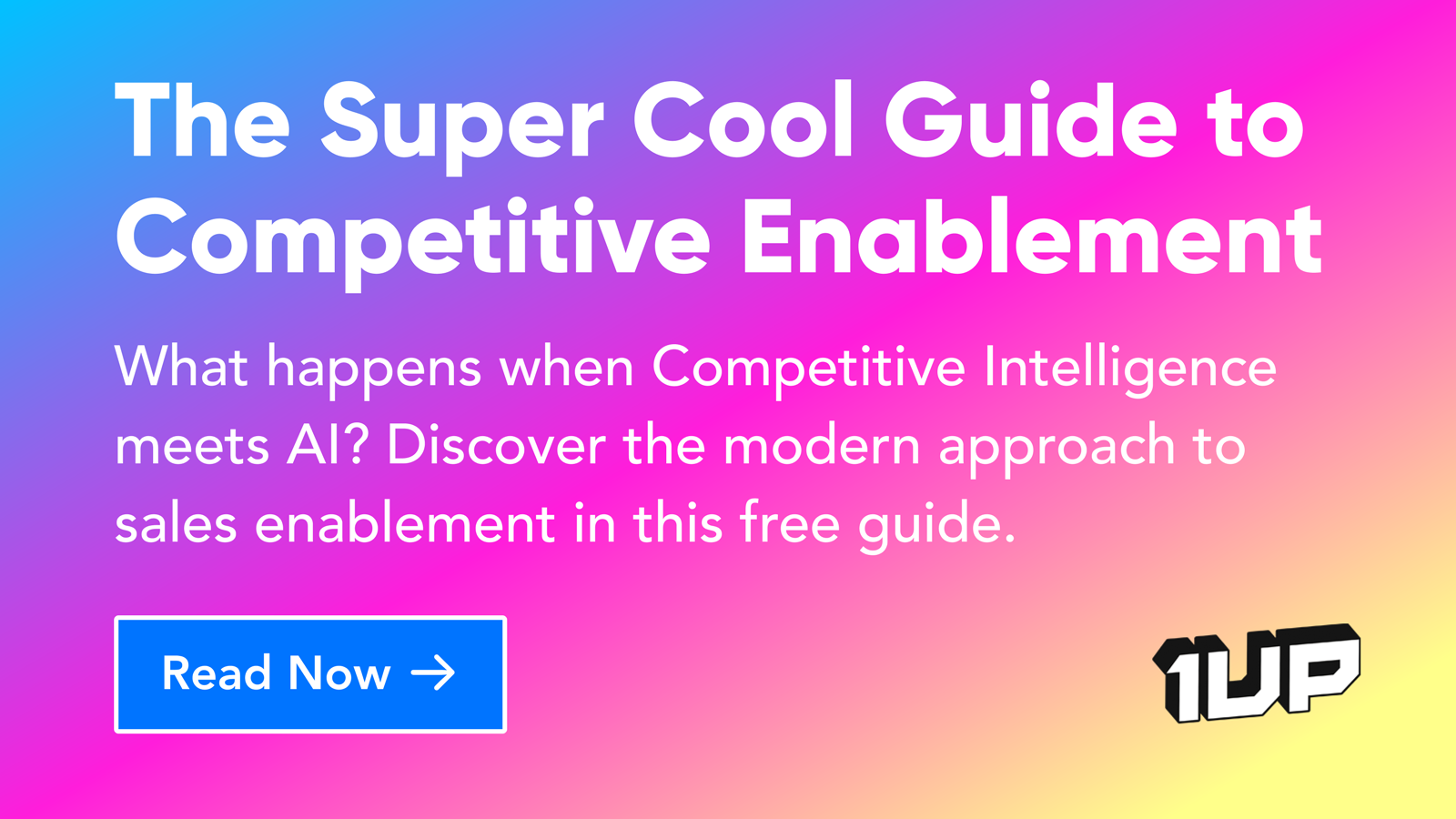 What is Competitive Intelligence?
Competitive intelligence refers to the process, tools and methods used by a business to analyze competitors.
Your business has competitors. You watch them.
You're paying attention because you want your business to succeed.
Perhaps you're interested in their pricing, product messaging, employees, and customers. Think about the things you'd like to learn about the top contenders in your field.
Now think about the bits of information that will help your sales team close more deals. Or, inform your product teams what to build. Or, guide your marketing org on what campaigns they should run.
Now add SEO, PPC, ad campaigns, marketing collateral, product demos – any piece of competitor can think of.
The sum of all these signals is competitive intelligence.
Identifying your competition isn't always easy. It's largely influenced by the maturity of your industry and market saturation. A mature market might have dozens of businesses engaged in a heated rivalry. For example, ad-tech companies are up against hundreds of other players.
In a mature arena it's best to focus on the top 3-5 businesses that have the greatest threat to revenue within each geographic region.

Lani Leuthvilay, Senior Director of Product Marketing – PlainID
For newer, category-creating products – understanding the competitive landscape can be especially complicated. A nascent product won't have many direct competitors but it might come up against legacy vendors who compete for the same budget.
If you're unsure whether someone is a competitor, ask yourself this question:
"If customers don't purchase my solution, where else would their budget go?" The answer to this could be a combination of other products or another market incumbent. Your competitor is the business to which the money flows.
The Role of Competitive Intelligence Software
Manually gathering information about other businesses is a time-consuming task.
Competitive Intelligence software enables a business to keep track of activity and helps guide decision-making on how to better serve customers. For example, SEMRush helps Marketing Teams monitor competitors across Google Search and Ad Campaigns, while a tool like 1up uses AI to automate Competitive Intelligence, making it easy for teams to ask questions about their competitors.
Competitor Intelligence Gathering Should be Automated
There are many tools available that can help track everything from SEO to ad campaigns to news and social media. You can pretty much use software to analyze what your competitors are doing in real-time and answer questions like:
The answers to these queries lie in a combination of first and third-party data sources. These can include customer reviews, social networks, marketing channels, and even internal sales notes.
AI Has Made it Easier to Digest Lots of Data
Identifying gaps in the market is a time-consuming process. So is checking to see if your competitors are copying your messaging. These laborious, time-consuming, and sometimes difficult tasks can be handled efficiently and effectively by machines, though. And this is where AI comes in. More and more tools are leveraging AI to provide competitive insights you didn't even know existed.
Automating Content Analysis and Knowledge Sharing
Nobody really wants to spend hours watching videos about competitors, reading their marketing collateral, and creating sales battlecards. But in a competitive market, this has been a necessary evil. Using an app to monitor competitors can significantly minimize the effort required by automating the ingestion of marketing collateral, product launches, hiring trends, news, and more.
The next step is to automate the delivery of knowledge.
"What should I say about the competition when they bring up pricing?" — a question your sales team asks every day.
Making CI available to them where they work is a huge win. How do you do that? By delivering intel across the sales and marketing stack – Salesforce, Hubspot, Slack and Microsoft Teams – wherever your GTM org lives. This brings us to the concept of competitive enablement.
Find Out How to Automate Intelligence with 1up.ai
Ask about your competitors and get answers in seconds.
What is Competitive Enablement?
You've gathered information about your competition. Great. Now how can you use that data to help your team succeed in the field? Even the most thorough competitor research isn't enough. It's not actionable.
Competitive enablement is the process of transforming Intelligence into Sales Enablement.
This is the part many organizations get wrong. They fail to bridge the gap between collecting valuable data and its utilization by the Go-To-Market teams.
Driving Intelligence Across Your Organization
Did you know that after hiring your tenth employee, someone on the team is regularly checking what your competitors are doing? Every small or medium business (SMB) has people who care about the competition. Whether that's product managers, marketing leaders, or sales reps depends on the stage & size of the company and the context.
Regardless of who or how the intelligence is being used, good competitive enablement will impact your GTM teams in different ways:
Product marketing managers (PMMs) are often tasked with monitoring products, features, and messaging to ensure products can stand out amidst all the noise. In fact, a great PMM might even be the 'Competitor Analyzer' on your team, responsible for generating sales battlecards and assets that can be used in the field. Worse, they're often stuck answering and educating teammates on all things competitor-related.
1up enables product marketers to automate question answering, product analysis, and competitor monitoring – saving hours of manual effort. Using 1up, PMM's can track messaging, positioning, product features, and competitor collateral with ease. This data is then used to automate questions from the broader Sales & Marketing organization.
Sales organizations often find that they either have too much CI or none at all. With the right competitive analysis tools, a revenue team can cut through the noise and get insights exactly when they need them. Slack is a great example of how competition can be turned into a conversation.
Wether its filling out a large RFI or answering customers' technical question, even the best sales teams can feel overwhelmed with information. With 1up, answers are generated in seconds from an automated knowledge base.
Meanwhile, sales operations and enablement teams are tasked with onboarding new hires, and educating new recruits can be painful and time-consuming. With AI, RevOps teams can quickly get new reps up to speed on the competitive landscape with up-to-date and effective content.
We've seen it before—engineers having to stop what they're doing to answer a technical question about the competition. A good intelligence tool can prevent this by automating the delivery of responses about competitors so your Sales Engineers can spend less time answering colleagues and more time helping customers.
For product managers, the ability to analyze features, strengths, weaknesses, and customer sentiment in a single dashboard is a big improvement in efficiency.