Transform Intelligence into Sales Assets
You've gathered information about your competition. Great. Now how can you use that data to help your team succeed in the field? Even the most thorough competitor research isn't enough. It's not actionable.
Competitive enablement is the process of transforming Intelligence into Sales Enablement.
How to Drive Analytics Across Your Organization
Did you know that after hiring your tenth employee, someone on the team is regularly checking what your competitors are doing? Every small or medium business (SMB) has people who care about the competition. Whether that's product managers, marketing leaders, or sales reps depends on the stage & size of the company and the context.
Effective Competitive Enablement impacts teams in different ways:
Product marketing managers (PMMs) are usually tasked with monitoring your messaging to ensure that you're standing out amidst all the noise. In fact, a great PMM might even be the de facto 'Competitor Analyzer' on your team, responsible for creating battlecards and sales assets that sales can use in the field.
1up enables product marketers to automate competitor analysis and more effectively generate sales battlecards. Using 1up, you can track messaging, positioning, product features, and competitor collateral with ease. This data can then be used to visualize how your competitors' product and messaging evolves over time:
Are they "taking inspiration" from you?

Is their messaging beating yours?

What are they saying on social media?
Great analytics software will reveal all this and more.
Want AI that Helps You Compete?
Automate and accelerate your GTM teams with 1up.ai
Sales organizations often find that they either have too much CI or none at all. With the right competitive analysis tools, your revenue team can cut through the noise and get insights exactly when they need them. Slack is a great example of how competition can be turned into a conversation.
Revenue Operations (RevOps) Teams
Sales operations and enablement teams are tasked with onboarding new hires, and educating new recruits about the competitive landscape can be painful and time-consuming. With a simple competitive dashboard, you can quickly get your reps up to speed on the competitive landscape with up-to-date and effective content.
We've seen it before—engineers having to stop what they're doing to answer a technical question about the competition. A good intelligence tool can prevent this by automating the delivery of responses about competitors so your Sales Engineers can spend less time answering colleagues and more time helping customers.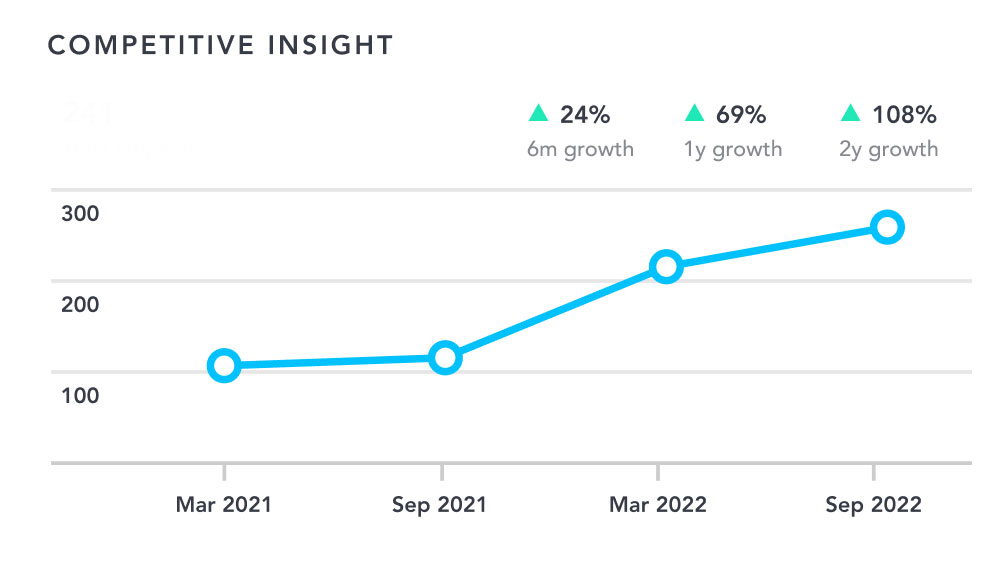 How do I know how many competitors I have?
You can't really figure this out with certainty until you define your criteria for a direct vs an indirect competitor. Once you know who you're up against, you can begin generating a list of the competition. Although this can be done manually, again, it's a time-consuming process. An automated competitor discovery tool like 1up can help you quickly identify competitors and monitor them.
How do I get our sales team to use competitive data effectively?
This is where sales enablement truly shines. One mistake we always see is organizations creating content and then handing it out to sales teams in hopes that they'll use it when the need arises.
The problem with this approach is that it doesn't take into account that sales is more like a dialogue. It's a conversation that's always taking place with the market. It's important that information be there when it's needed, and does not require a rep to stop what they're doing to go looking for it. Making competitive intelligence available in a searchable web app can accelerate the process, and adding functionality such as Slack integration can help sales teams get on-demand intelligence as and when they need it.